We just received the news that John Sandford has gone to his heavenly reward. He and his wife Paula where one of the most graced and influential leaders of the Charismatic Renewal. Paula passed away several years ago. Their co-
authored
work,
The Transformation of the Inner Man
, is a must read for those in the inner healing movement. He is often mistaken as the son of Agnes Sanford, but no, note the "d" in his name. Actually, Agnes considered John Sandford more of her "spiritual heir" than her natural son, John Sanford, who turned to Jungian psychology, much to her regret. Here is text of the section I wrote on the Sandfords form my work, Agnes Sanford and Her Companions: The page breaks and notes follow the text, and I hope will not be confusing to you: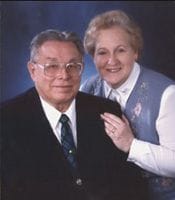 John and Paula Sandford: Spiritual Law Clarified
and Inner Healing Explained Biblically

The definitive apologetic for inner healing and the description of biblical spiritual laws was done through the counseling and writing ministry of a husband-and-wife team, John and Paula Sandford.1 Both were children of the Depression and learned habits of thrift and resilience from that traumatic period. John was born in 1929 and is still living; Paula was born in 1931 and died in 2012. John's mother, an Osage Indian, had been raised in the old exuberant tradition of Methodism which believed in the Bible and affirmed the absolute reality of its moral laws. During her first month of pregnancy with John, she had a dream in which she felt a thousand volts of electricity run through her body and heard God's voice announce, "Do not be afraid, for I am God. You are to have a son who will be my servant."2 Unfortunately, by the time of his birth she had drifted into liberal Protestantism, and John was raised in that weakened

1.

No biographical book has appeared on John and Paula Sandford, certainly one of the most influential couples of the Charismatic Renewal. A brief biographical article by Julia Loren, "Healers of Wounded Soul," was done for Charisma. John and Paula's writings give details of their lives with disarming candor. Some of the biographical information in this section is based on conversations the author had with the Sandfords at various CFOs in the 1980s, especially a long interview during the North Florida CFO in Leesburg, Florida, on January 18, 1986. Note that all of the Sandford's books are still in print and may be ordered from the Elijah House website, http://www. elijahhouse.org.

2.

Loren, "Wounded Soul."

247

form of Christianity. Paula's household, on the other hand, was richly and devoutly evangelical.3

From his Indian heritage John inherited a special sensitivity towards both people and nature which is often given the pejorative term psychic. As a young man he was especially sensitive to the meaning of dreams, and on several occasions received prophetic, or precognitive, dreams of dreadful events. At the time he did not know that the function of prophetic dreams is to trigger intercessory prayers to lessen or cancel the impending event. Only after his baptism of the Holy Spirit and his encounter with Mrs. Sanford was he able to fully understand, interpret, and pray through these prophetic dreams. In fact, his later insights on the role of dreams in the Christian's life are among the best in

Christian literature.4




John attended Drury College in Springfield, Missouri, where he met Paula. They fell in love and eloped. They both felt that the Lord had placed them together for his service. John did well at Drury and earned a scholarship to the renowned, and liberal, Chicago Theological Seminary. There he worked towards a Master of Divinity degree as he pastored a small church in Streator, Illinois. He also drove a taxi in Chicago to provide for his growing family. At seminary he accepted the predominant liberal theology and higher criticism perspective of his teachers and was well on his way to becoming yet another liberal pastor preaching social activism, situational morality, and very little gospel.




But the grace of God intervened.




During his practice preaching he attended a minister's breakfast meeting in Streator where he met Fr. Wilber Fogg, rector of the local Episcopal church. Fogg had attended a School of Pastoral Care and been baptized by the Holy Spirit, and was moving his congregation towards what became the Charismatic Renewal. He felt called to activate his Spirit-filled prayer group to pray for John, especially that he be shown the glory and the fullness of the Holy Spirit.

Within a few months of his ordination, John Sanford consciously and deliberately decided to reject liberal theology and to affirm the literal truth of the Bible. That decision was quickly blessed by God as John experienced the baptism of the Holy Spirit during prayer. He was confused by the experience and went to Fr. Fogg for advice. Fogg laughed and rejoiced

3.

Sandford, Wounded Spirit, 19, 21.

4.

Sandford, Elijah Task, chapter 12, "Dreams, the Sleep Language of God."




at this and was able to explain the biblical basis for his experience. John then quickly led Paula into the baptism of the Holy Spirit.

At the urging of Fr. Fogg, John attended one of Agnes Sanford's Schools of Pastoral Care in the summer of 1959. John was suffering from severe back pain and asked for prayer. Mrs. Sanford discerned that the root cause was a spiritual problem, specifically, his dysfunctional relationship with his mother. Although John had reconciled with his mother, deep hurts remained. Agnes ministered inner healing prayer and then laid hands on his back, and he was completely delivered of all pain and back problems.5 This was John's first experience of inner healing, a topic that would occupy much of his ministry and writings. In a later session of that same SPC Agnes prayed for his anointing in ministry and prophesied over him. She sensed John's deep thirst for the things of the Lord and his keen intellect, and a close friendship developed between them.




John rapidly read through the Agnes Sanford's books and the charismatic books that were beginning to appear. Paula began ministering with John at his parish charge, putting into practice what they had learned from Agnes Sanford. They also were particularly influenced by Derek Prince's writings, whom they personally met, and by the writings of Watchman Nee. John was led in a prophetic dream to move to Council Grove, Kansas. There he and Paula pastored the Wallace United Church of Christ until 1973. They practiced and further developed what they had learned from Agnes Sanford on inner healing and deliverance, and the gifts of the Spirit. 6




John was Mrs. Sanford's assistant as often as he could get away from his pastoral duties. He accompanied her at healing missions, CFO engagements, and as many as six Schools of Pastoral Care per year. At the beginning John's principal duty was as intercessor for her. While Agnes was speaking he would pray in tongues for her anointing. Within a short time John began to share some of the actual teaching tasks. His academic training and pastoral experiences as a Spirit-filled minister made him wonderfully qualified to assist Mrs. Sanford. By 1961, when he finished his MA in theology, he had become the lead minister of the schools.7




After Ted died in 1962, John also doubled as Agnes' chauffer, as she disliked driving and often got lost. He was careful to drive conservatively

5.

Sandford, Inner Man, 4-5.

6.

Sandford, Elijah Task, 177–78.

7.

Interview of John and Paula Sandford on January 18, 1986.




and quite unlike a cab driver in order to please her.8 On one occasion Mrs. Sanford had received several criticisms that the schools were run too loosely. Actually, they were structured to allow the Spirit maximum reign. But Agnes was determined that the next one would be more carefully managed, and instructed John and the other staff to be meticulously prepared and to keep to schedule.

John picked up Agnes at her home, but for the first time he got lost. When it was apparent that they were going to be late Agnes cried out, "The Devil take to one who first calls hold!" and John drove on like a crazed Chicago cab driver. In spite of that, they got there late, with Agnes' hair a mess, only to find that the venue had been changed because of a flash flood. Everything had to be improvised, and everything was off schedule. It turned out to be one of the most powerful schools ever held, as the Lord showed Agnes that he could move in the midst of chaos.9




In December of 1973, in response to the Lord's leading, John resigned from his very successful pastorate in Council Grove. He and Paula received direction to move to Coeur d'Alene, Idaho. There they did not seek a church, but set about writing a series on the inner healing ministry, starting with The Transformation of the Inner Man. They also began a counseling ministry that served the local churches and ultimately became Elijah House Ministries. There inner healing and deliverance and ministering under the anointing of the Holy Spirit were taught to ministers and laypersons alike. It became something like a residential School of Pastoral Care. Thousands of students and ministers have taken its courses, either at Elijah House or via its videos, and it continues to this day as an effective school of Spirit-filled ministry.10
Refining the Theology of Inner Healing
It was during his years with Agnes that John was forced to examine the biblical basis of inner healing, as he was constantly challenged on this. John carefully combed and elaborated what had been described by Mrs.
Sanford. Recall that Agnes had originally cast the ministry of the healing
8.
Others who regularly assisted Agnes at CFOs and other healing missions this decade included Tommy Tyson, a Methodist charismatic evangelist, and Fr. Francis MacNutt, a healing evangelist and theologian for the Catholic Church.
9.
Sandford, "Blessedness of Brokenness," and an interview by the author on January, 18, 1986.
10.
The website of Elijah House Ministries is http://www.elijahhouse.org.
of memories as a form of Eucharist intercession and burden bearing. John quickly found verification for this form of ministry in the New Testament, specifically Galatians 6:2; John15:13–16; and Colossians 1:24.
At the same time, he recognized that the evangelical critique of intercession and burden bearing had some merit. Truly, one person cannot repent for the sins of another individual. John came to the understanding that the intercessor and burden bearer did not repent for the other person, but rather served as a channel for God's grace of repentance to come to the other. Similarly, as we pray for salvation of a friend or relative, that does not imply we are saving that person, but rather we are serving as vehicles for God's saving graces. Ultimately every person must receive his or her own salvation, and repent of his or her own sins. But intercessors are called by the Spirit to stand in the gap while the person is weak and not even aware of their spiritual needs.11
The Sandfords' understanding of Jesus' burden bearing accepted Emmet Fox's theory of Jesus' suffering at Gethsemane (see chapter 17). But the Lord showed John another section of Scripture that was especially important in burden bearing:
Therefore, there is now no condemnation for those who are in Christ Jesus, because through Christ Jesus the law of the Spirit who gives life has set you free from the law of sin and death. For what the law was powerless to do because it was weakened by the flesh, God did by sending his own Son in the likeness of sinful flesh to be a sin offering. And so he condemned sin in the flesh, in order that the righteous requirement of the law might be fully met in us, who do not live according to the flesh but according to the Spirit. (Rom 8:1–4)
Under the Lord's prodding John realized that the law of the Spirit which replaces the law of death in the heart of the Christian is the commandment to imitate Jesus' burden bearing and self-sacrificing love for others. Then Sanford also came to understand that inner healing is a gift to the church that assists the life of sanctification. That is, it is not just a ministry of the forgiveness of sins, but also is a ministry that breaks the obstacles to sanctification and allows a person to proceed from glory to glory in the grace of God.12
11.
The Sandford's theory of burden bearing in relation to inner healing is covered fully in chapter 14 of their Wounded Spirit.
12.
Sandford, Inner Man, 4–5.
John was especially concerned with Ruth Carter Stapleton's books on inner healing, as he saw her books as a dangerous oversimplification of this ministry.13 Mrs. Carter Stapleton had been on the CFO circuit, but not an instructor at the Schools of Pastoral Care, which were more demanding theologically, nor was she theologically trained. John also saw that the coupling of inner healing with Jungian vocabulary, as in some of the CFO women and in Agnes' own talks, would lead to trouble. He prophesied to Mrs. Sanford that her ministry would suffer from this. John set about writing his work on inner healing, The Transformation of the Inner Man, to remedy these issues. The very title indicates that he would use no vocabulary other than biblical vocabulary to express the profound truths of this ministry. John hoped his work would be finished and published to dampen what he foresaw as a wave of anti–inner healing literature. Sadly, that did not happen (see chapter 21 below on Dave Hunt's work). John is now retired from active ministry, and his son Lauren carries on the leadership of Elijah House.
The noted Pentecostal scholar Dr. Jon Ruthven wrote a very positive review of my book,

Agnes Sanford and Her Companions: The Assault on Cessationism and the Coming of the Charismatic Renewal. You can access it

HERE.
Just released is my first book of plays. Pentecostal (and Anglican) Plays (and Postscripts). It includes two plays and their postscripts.
The play, "One Day at St. John's" depicts what everyday life can be like in a church that practices the gifts of the Spirit and the healing/exorcism ministry as normal. Among the events that occur in the course of the play are the healing of a waitress who was scalded with hot coffee, an exorcism (led by a layman) and the "laying of a ghost" to rest.
Pentecostal (and Anglican) Plays (and Postscripts) can be purchased HERE at Amazon.
The second play, "Joseph ben Jacob," explores Joseph, husband of Mary, as the dream interpreter, master carpenter, and father of Mary's other children. It helps explain why Joseph was able to discern correctly his dream about Mary's first-born.
The postscripts examine the controversial aspects of the plays and focus on two false early gospels which distorted the meaning of the true Gospels. The "Proto-Gospel of James" claimed that Mary was "every virgin" and never had other children, and the "Gospel of Nicodemus" cancelled the true meaning of Jesus' "descent into Hell" and his ministry there as described in 1 Peter 3 & 4
My wife has written a funny and inspiring story of how she transited from a cessionist and Baptist to a Spirit-filled Believer. The book has many stories of our three decades of ministry together. It may be purchased
HERE
.